Magnolia x soulangeana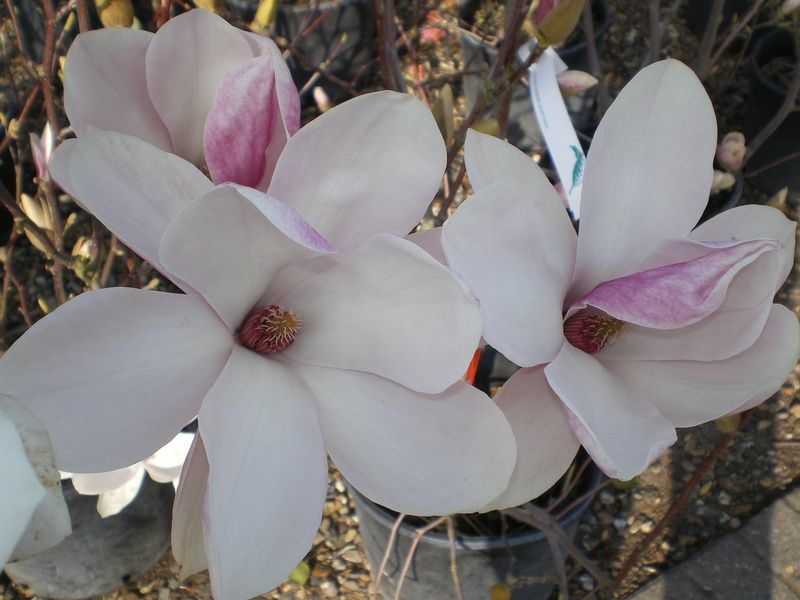 Description: Maybe the most commonly grown of the vast range of magnolia. Known for its mass of large exotic looking flowers which open with the first bright days of spring. The fleshy flowers are in fact fleshy pink with a deep purple blotch at the base. The large simple green leaves appear as the flowers fade. Easy to grow ultimately reaching its small spreading tree like size and needing little attention.
Uses: Often used as a specimen tree in smaller town gardens. However good to give height to a border. Ensure the plant is clearly seen or is near a pathway to ensure everyone gains from the spring fragrance.
Climate/Position: Sunny site but avoid the earliest morning sun if possible to reduce risk of flower damage otherwise caused by sun on a frosty flower.
Height/Spread: A tree magnolia reaching 6 x 4 metres.
Soil Requirements: Best in a rich deep soil with plenty of moisture and slightly acidic soil though fairly lime tolerant.
Pruning: No pruning required. Any shaping of the young plant should be done after flowering in late spring.
Special Requirements: Mulch in spring to maintain moisture especially on drier soils.
Additional Interest: M. x soulangeana is a hybrid between M. denudata × M. liliiflora which was raised early in the 19th Century by Soulange-Bodin at Fromont near Paris.

The genus name honors Pierre Magnol, French botanist (1638-1715).