Laurus nobilis 'Aurea'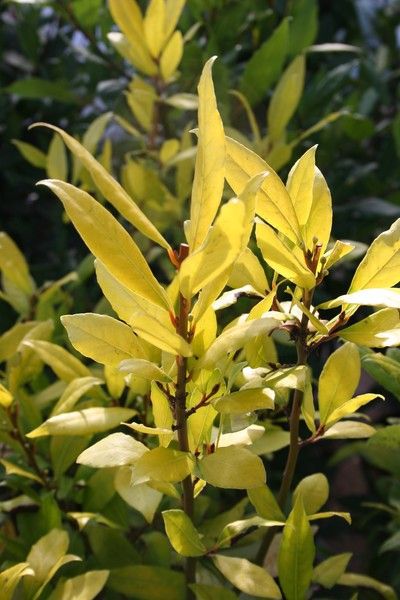 Description: An unusual form of the Bay Tree, with golden yellow, aromatic, leathery leaves. An excellent evergreen shrub for a sunny and sheltered position in the garden. Very attractive in autumn and spring. Makes an excellent backdrop to many garden plants. An unusual plant for any garden as they are not often available.
Uses: Great in containers and in formal plantings.
Climate / Position: Sun or partial shade.
Height / Spread: Though Laurus noblis has been known to reach 10m in very old specimens this is a less vigorous golden introduction and is more likely to reach 2-4m happily.
Soil Requirements: Prefers a moist but well drained soil.
Pruning: Remove wayward shoots in late winter to early spring to maintain healthy framework. Clip topiary specimens twice during summer to maintain shape.
Special Requirements: Shelter from cold winds.