Hydrangea paniculata 'Kyushu'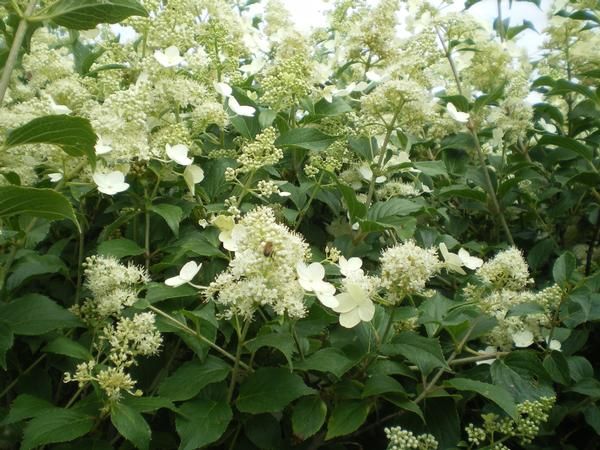 Description: The long conical clusters of flowers emerge greenish yellow and become creamy-white as they mature. The flowers are freely produced from late summer to autumn. This magnificent shrub has an upright habit and glossy dark green leaves. Very attractive to insects.
Uses: The long flower spikes make this particular Hydrangea a great plant for use as a specimen plant in mixed borders with the upright habit particularly suited to the back of a border. Hydrangea paniculatas are relatively drought tolerant once established.
Climate / Position: Sun or partial shade.
Height / Spread: Height 2.5m, spread 1.5m.
Soil Requirements: Moist but well drained, fertile, humus rich soil.
Pruning: Remove wayward shoots to strong shoots to maintain a healthy framework.. Cut back previous years shoots to within a few buds of the framework in spring – this will produce larger flowerheads. Responds well to hard pruning
Special Requirements: Shelter from strong drying winds.
Additional Interest: In 1862, the German physician Philipp Franz von Siebold brought the earliest introductions of H. paniculata from Japanese gardens. The introduction of the first wild origin H. paniculata into the UK may well have been a seedling collected on the slopes of the sacred volcano of Aso-san in Kyushu, Japan, by Captain Collingwood Ingram (1880– 1981) in 1926 and established in his garden in Benenden, Kent. Many years later he gave cuttings to Kalmthout Arboretum from where it was distributed under the name 'Kyushund Kyushu'