Hosta 'Minuteman' (fortunei)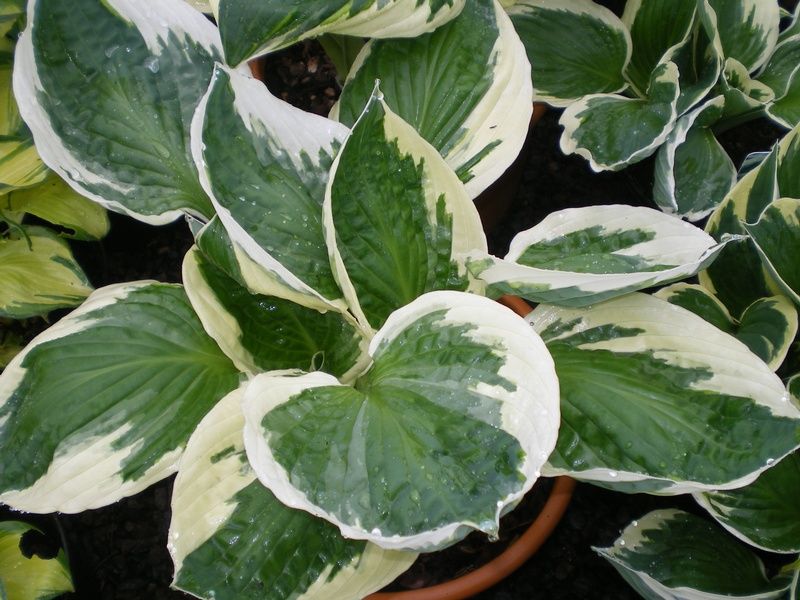 Description: A very fresh and clean looking smaller leaved Hosta which is deservedly a very popular white margined form. The dark green leaves each have a pure white margin. Each leaf is slightly cupped with a soft wavy edge making it extremely attractive. Pale lavender flowers that bloom around June but not of great value and may be removed if grown for leaf effect.
Uses: Its clear contrasting green and white leaves make it stand out in a shaded corner and also make it excellent for container growing. Also good in beds and borders, used as ground cover or specimen plants near waterside in woodland shade and also suited to half sun.
Climate/Position: A shade lover but more tolerant of sun than sometimes noted growing best with full morning sun but more tolerance of afternoon sun than many Hostas.
Height/Spread: Forms a dense mat of leaves to 30 cm spread 50 cm, flower spikes taller.
Soil Requirements: Grow in moist or even wet but well-drained, fertile soil, however, also tolerates dry shade and drought.
Pruning: No pruning but tidy as leaves die back in autumn.
Special Requirements: A summer mulch is beneficial on dryer soils. Some slug control is beneficial on heavier and wet soils or the use of containers helps reduce potential leaf damage.
Additional Interest: Hostas were introduced by Austrian botanist Nicholas Host (1761-1834) and this was a sport off Hosta fortunei introduced in 1887.
This particular variety was found as a sport on H. 'Francee'