Hippophae rhamnoides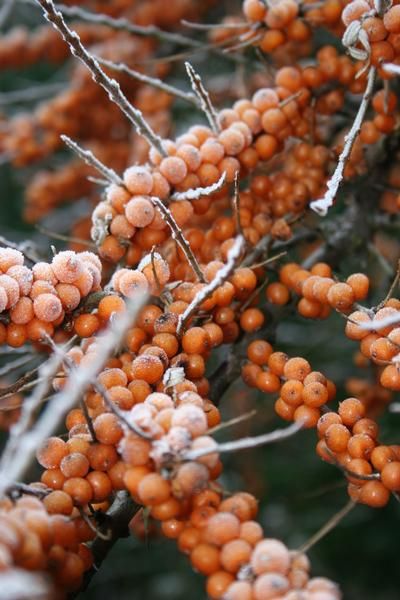 Description: A large native shrub, useful for hedging or windbreaks in coastal and exposed areas. Spiny stems bear grey-green thin leaves up to 6cm long are scaly silver and scaly bronze on both sides. Tiny yellow-green flowers are produced in spring. Golden orange berries are produced in profusion in autumn.
Hippophae also fix nitrogen in the soil and therefore are good on poor soils. Resistant to honey fungus.
Climate / Position: Full sun
Height / Spread: Height 3m+. Spread 3m.
Soil Requirements: Well drained sandy soil.
Pruning : Pruning is seldom necessary.
Special Requirements: As plants are dioecious - (male and female) therefore either ensure a male is planted or several plants in groups to ensure good pollination and therefore a good berry display.
The ancient Greeks named Hippophae - 'glittering horse' as its leaves were used for feeding racing horses. According to legend, Hippophae leaves were the preferred food of Pegasus.