Heuchera 'Midnight Rose'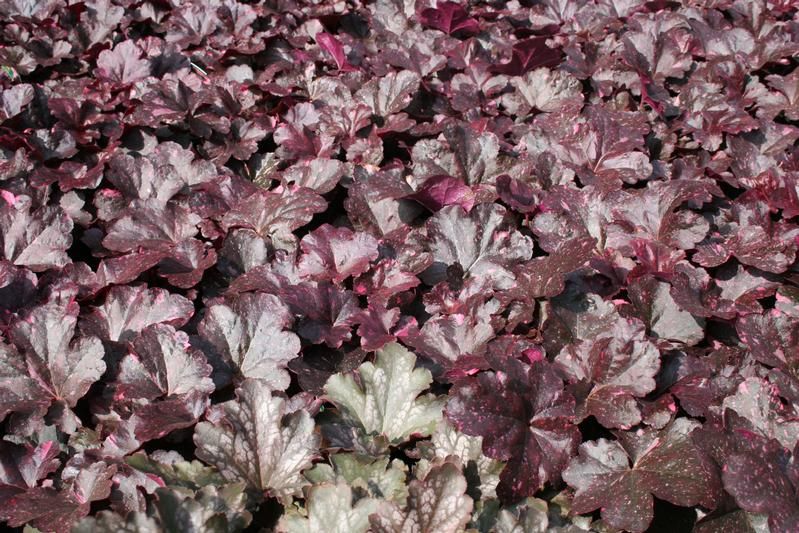 Description: Heuchera 'Midnight Rose' has very striking evergreen foliage which is good as a contrast for other plants. Lovely dark coloured burgundy leaves splashed with hot pink flecks and taller stems of insignificant small flowers which appear in late spring/early summer, but grown primarily for foliage. Heucheras have rocketed in popularity in the last few years due to the many new hybrids that have been developed including green, purple, chocolate, pink, orange, amber, yellow, and combined colours.
Uses: Grow in mixed beds beds, as an edger, or in containers giving colour all year round.
Climate/Position: Partial shadeprefered but also tolerant of full sun.
Height/Spread: 20 x 40cm
Soil Requirements: They grow best in moist, organic soil with good drainage. Not pH sensitive
Pruning: Remove flower stems and tidy leaves in spring. Heuchera can grow out of the ground over time and lifting and replanting deeper will re-invigorate old plants.
Special Requirements: The plants do not like to be dried out or scorched in the growing season or excessively wet in the winter. Good compost added before planting will help water retention and drainage.
Additional Interest: Heuchera are resistant to the chemical Juglone produced by walnut trees to suppress vegetation beneath the canopy, so can be used in this difficult planting situation.