Hamamelis x intermedia 'Ruby Glow'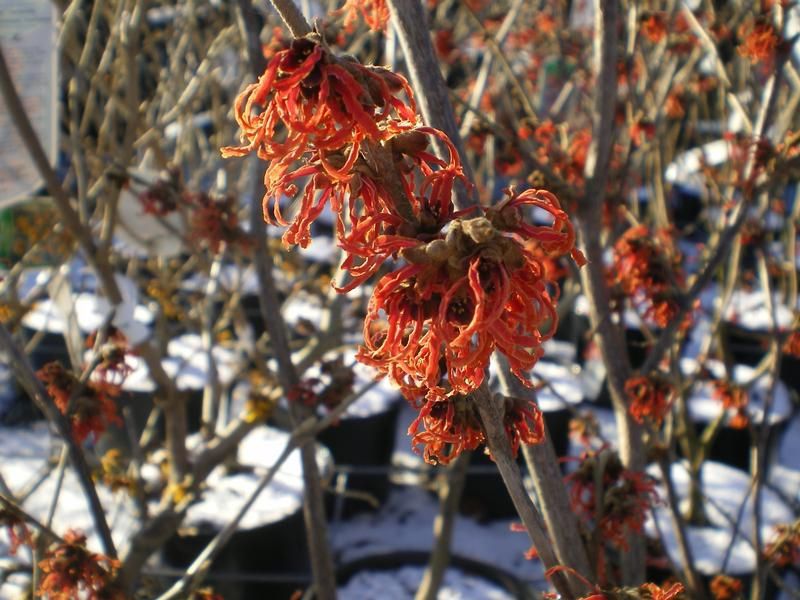 Description: In early or midwinter it bears elegant, spidery fragrant fiery red flowers, with crimped petals on the bare branches. On a cold winters day the scent of this large shrub will stop you in your tracks as when little else is in flower this valuable shrub will lift the spirits both visually and when the scent hits the nose. The curious flowers can withstand harsh frosts with no damage at all. Round bright green leaves turn brilliant orange and red in autumn.
Uses: They are versatile plants in the garden providing height at the back of borders, great for winter gardens and can be used in woodland plantings.
Climate / Position: Full to partial shade in an open but not exposed position.
Height / Spread: 4x 4 metres
Soil Requirements: Likes a moderately fertile, moist but well drained soil. Can also tolerate deep humus rich soil over chalk whereas many Hamamelis are less tolerant of lime.
Pruning: remove wayward or crossing branches after flowering to maintain a healthy framework.
Additional Interest: Hamamelis comes from the Greek for a plant with pear-shaped fruit. This hybrid is of garden origin and is a cross between H. japonica and H. mollis. The name 'intermedia' means intermediate in colour, form or habit.