Gaura lindheimeri 'Whirling Butterflies'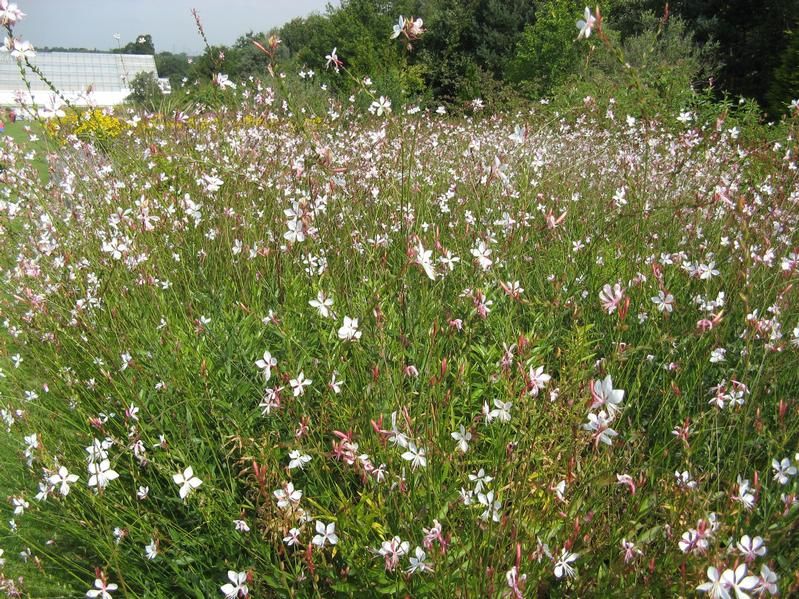 Climate/Position: Summer flowering herbaceous perennials with white flowers which are said to resemble a cloud of butterflies. The flowers are produced in profusion throughout the summer from April to October.
Bushy lax habit with grey green lanceolate leaves which remain low and spreading below the thin flower stalks and so provide a light and airy feel.
Native habitat of species is hot dry prairies and pine lands in southern USA. Good planted with grasses and other prairie planting as well as adding a soft infill to mixed borders.
Climate/Position: Full sun preferred. Tolerant of hot conditions.
Height/Spread: 1metre x 1metre.
Soil Requirements: Light well drained soil free draining - tolerant of drought.
Pruning: Trim back the flower stems after flowering end of October.
Re trim the plant again in late spring to encourage new growth and flowers.
Special Requirements:
Likely to be short lived but still well worth the abundance of colour provided in the border.
A recent introduction may be listed as Gaura lindheimeri 'Bijou Butterflies'