Fagus sylvatica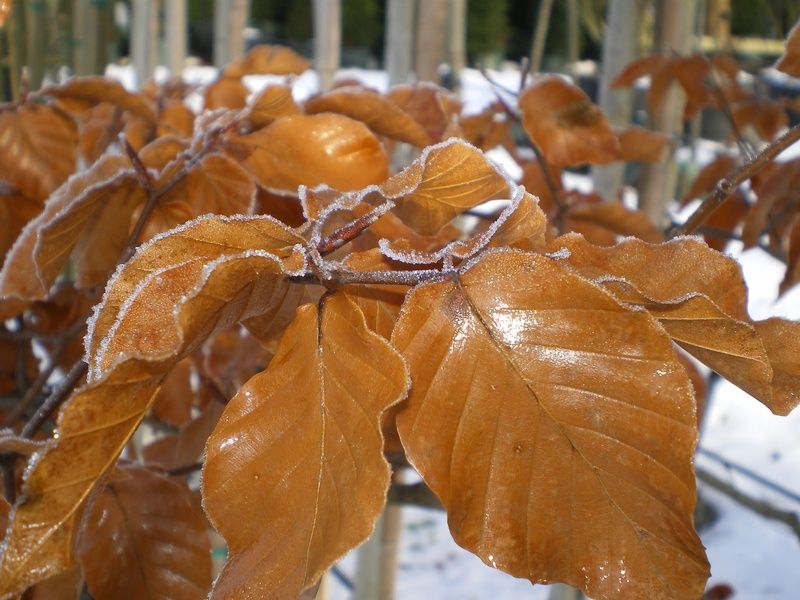 Description: A superb large deciduous tree which is one of our native plants. Smooth grey bark and fresh green ovate leaves which are soft, smooth and glossy. On young plants and when grown as a hedge then the leaves turn coppery brown in autumn and remain throughout winter giving additional interest at this time. Makes a superb hedge though a little slower to establish it is worth the wait. On mature trees then attractive brown seed heads open but seed is only produced about every four years or mast years.
Uses: In time this will grow into a majestic, spreading deciduous tree which is ideal as a lawn specimen. Beech trees have shallow broad-reaching roots and create dense shade. However, the tree is very versatile and can also be gown as a wonderful formal or informal hedge.
Climate/Position: Best in full sun or partial shade. Established trees tolerate some drought.
Height/Spread: A majestic large tree reaching 20 - 25 metres height and spread. As a hedge it can be allowed to reach 5 metres or can be kept to 1.5 metres. When planting then ideally a double staggered row 45cm between plants will give a good thick hedge.
Soil Requirements: Suited to most soils and tolerant of chalky soils. Soils should be well-drained soil, rich in humus content. If the soil remains wet then it may be best to plant a Carpinus (Hornbeam) instead of Beech.
Pruning: No pruning required for specimen trees. If grown as a hedge then annual pruning is required in July August.
Additional Interest: To distinguish a beech from a Hornbeam (Carpinus - in winter note the buds whch protrude from the stem at wide angle on Fagus but are flat to the stem on Carpinus. In summer, the leaves of Fagus are shiney and smooth, Carpinus leaves and not shiney and are not smooth.