Euphorbia griffithii 'Fireglow'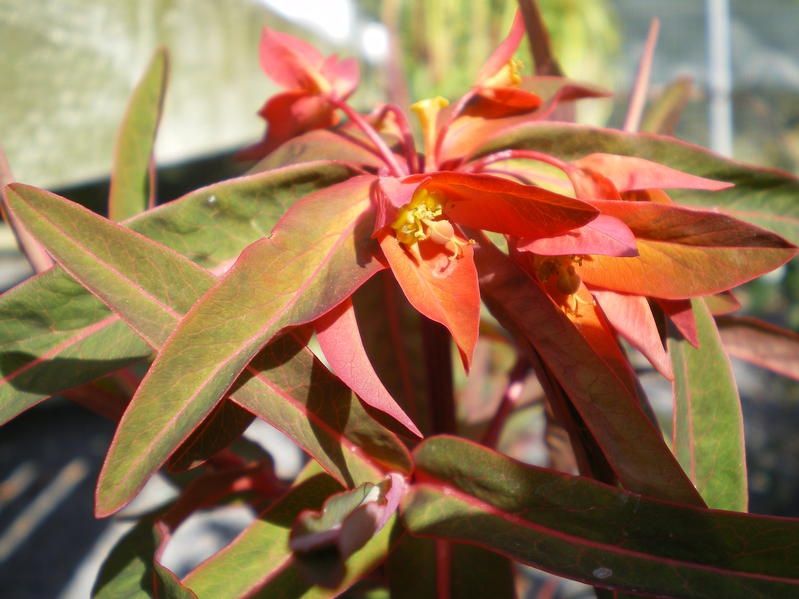 Description: A strong growing clump forming herbaceous Euphorbia which is eye catching in spring as the new growth and flowers are rich orange. The summer leaves have red midribs and pinkish stems. For best effect plant with only green foliage plants or ferns, or add colour to a hot bed.
Uses: Shortly creeping underground stems makes this a spreading perennial so ensure space to allow a clump to form otherwise can be invasive in small areas. Good in herbacoeus border, mixed borders and especially in a hot themed border.
Climate/Position: Sun or partial shade.
Height/Spread: 80cm by 80cm - spreading clump in moist soils.
Soil Requirements: Any soils - moist but free draining.
Pruning: Cut down all growth to ground level in autumn.
Special Requirements: All parts of the plant are highly toxic if ingested. The milky sap may cause irritation to skin and eyes. When working with the plant then ensure gloves are used - especially if sunny.
Additional Interest: The common name Spurge comes from old French 'espurge' - when used by physicians in medieval times to spurge evil spirits – gladly a practice that is now defunct!