Echinacea purpurea 'White Swan'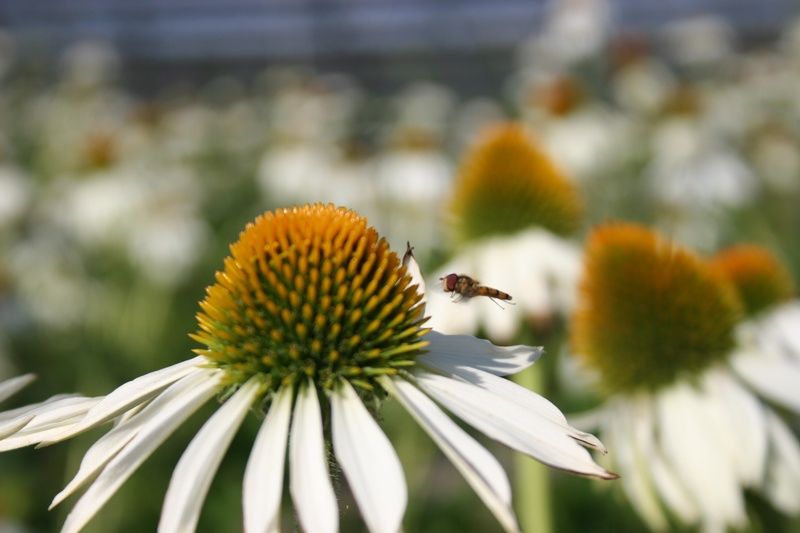 Description: A white flowered form of coneflower which is shorter than many other varieties. The large daisy like flowers have distinct white petals which slant downwards from the central cone of a lovely contrasting orange brown. A clump-forming perennial with an upright habit. The scented flowers also attract birds and butterflies to the garden in late summer. In autumn the attractive seed heads give additional interest and they last through the winter and also further attract feeding birds.
Uses: Great for mixed borders and as it is a shorter growing plant is also suited to containers growing. Especially useful in a mixed border, a white garden or a garden focused on cooler colours. Echinacea are also excellent when used in the prairie style of garden planted with grasses and giving log lasting late summer and autumn interest. Also good as a cut flower.
Climate / Position: Sunny position.
Height / Spread: Height 75cm. Spread 50cm.
Soil Requirements: Well drained soil.
Pruning: Cut back stems after flowering to encourage further flower production. Alternatively, leave all the seedhads for long lasting autumn and winter interest.
Special Requirements: Plants can be lifted and divided after a number of years.
Additional Interest: The name "Echinos" means hedgehog in Greek, and related to the bristly cones which remain through the winter, Echinacea have more recently become widely know in herbal remedies against colds. Many new introductions of Echinacea are now available as there has been a range of breeding programmes.