Crocus chrysanthus cultivar (Purple striped)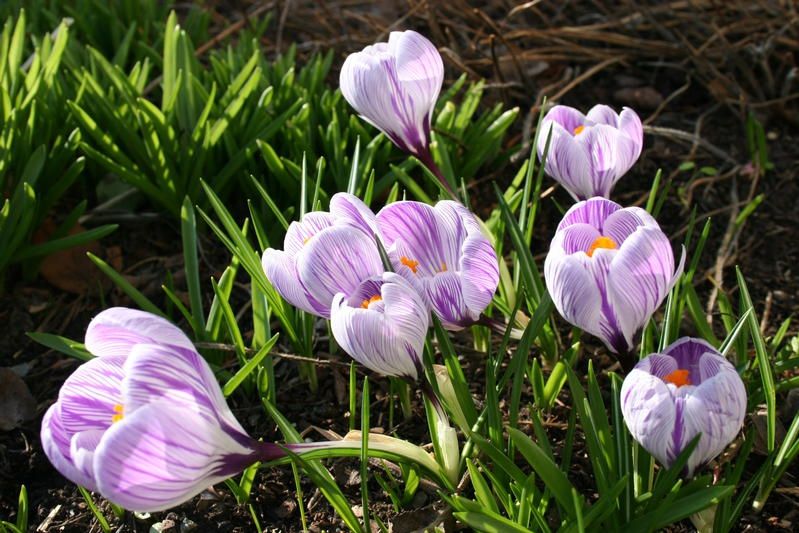 Description:
Crocus are one of the earliest of the spring flowers which bloom for several weeks from February and hail that spring is near. Striped purple flowers. Yellow, purple, white and other striped combinations are available.
Low growing flowers so plant in the front of a border or can be mass planted in lawns for a showy display, especially good around the base of trees where grass can be left a little longer before mowing. Use also in the front of mixed flower borders and in tubs and containers.easily seen from pathways or viewing areas
Climate/Position: Sunny site preferred.
Height/Spread: Flower up to 20cm, leaves up to 30 cm. Spreading into clumps if left undisturbed.
Soil Requirements: Free draining especially in winter.
Pruning: Ensure leaves are left to mature and yellow before removal or mowing if in grass. This will be approx 6 weeks after flowering.
Special Requirements: Plant the flat corms in groups in late autumn. Ensure the leaves are not removed too early after flowering as they continue to photosynthesise ie produce food, for storage in the corm needed for next years flowering.
Crocus chrysanthus cultivars were raised by crossing the species C. chrysanths with various forms of C. biflorus in Netherlands at Zwanenburg Nurseries in Harlem. Selected for larger flowers and unusual markings they remain the most popular range for garden use.