Crocosmia x crocosmiiflora 'Red King'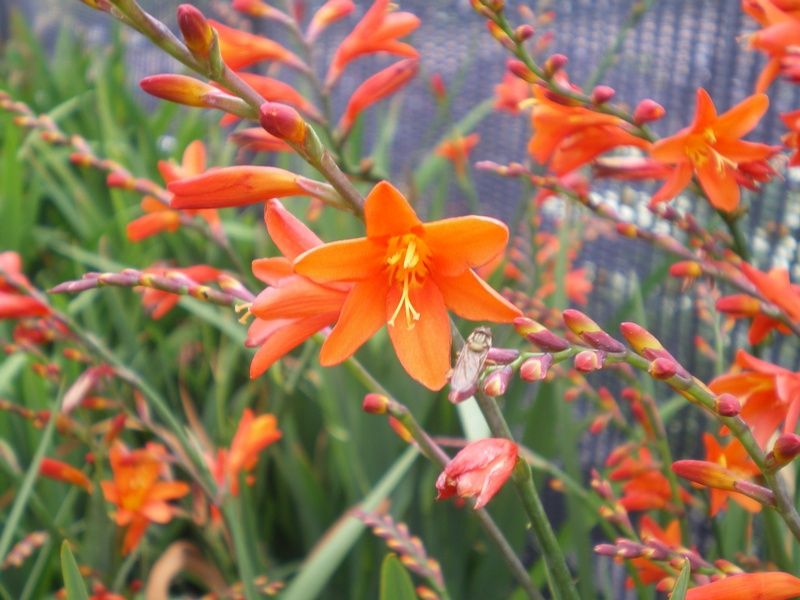 Description: A small growing form of Crocosmia suitable for the smaller garden. Compact and clump-forming with upright, lance-shaped, narrow, mid-green leaves. In late summer the arching stems of funnel-shaped, red flowers with yellow-orange centres give a superb show.
Uses: In any mixed border or herbaceous border giving bright summer colour.
Climate/Position: Open sunny position
Height/Spread: 60 x 40cm
Soil Requirements: Any free draining soil
Pruning: Cut back the stems after flowering in late autumn.
Special Requirements: The root system is in fact a corm. Can be lifted after a number of years and divided removing old corms as this will help ensure prolific flowering.
Additional Interest: The Common Montbretia, (Crocosmia x crocosmiiflora) was the first hybrid Crocosmia and was bred in France in 1879 by Victor Lemoine of Nancy.
The plant Montbretia was named after Antoine Fran's Ernest Conquebert de Monbret, a botanist who accompanied Napoleon on his Egypt campaign in 1798.
Crocosmia, is so named because the dried leaves smell of saffron when rubbed, and after the Greek words, krokos for saffron and osme for smell