Cornus sanguinea 'Midwinter Fire'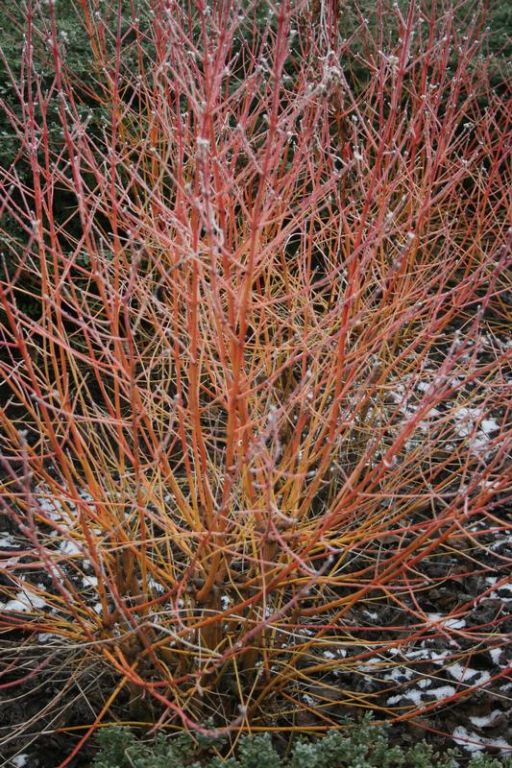 Description: This dogwood is really grown for the brilliant, flame-coloured stems which provide stunning winter stems. The rich shades of orange yellow and red look like a midwinter fire! It is a spreading form producing insignificant white flowers in summer and bearing oval green leaves which turn orange yellow in autumn.
Uses: Excellent for shrub borders or watersides planting and especially useful in a designated winter border. Beautiful when inter-planted with red or black stemmed dogwood for a striking effect. Colour is strongest when planted in full sunshine.
Climate/Position: Full sun or partial shade. Winter stem colour best in full sun
Height/Spread: Up to 1.5 metres x 1.5 metres if not coppiced. Coppiced plants reach 1-1.5 metres.
Soil Requirements: Grow in neutral to acidic, well drained or damp soil.
Pruning: When grown specifically for its winter stems then dogwood's are often cut down to the base each year. However, this is a less vigorous form of dogwood and therefore it is best not to cut down annually. A few stems may be cut to the ground each year or cut completely every 2-3 years. If left as a shrub then little pruning is needed but can be trimmed to keep a nice shape
Special Requirements: If stooled for winter colour then ensure plants are mulched with organic matter and fed each spring to maintain its vigour and growth.
Additional Interest: Discovered in a German garden by H. Venhorst in the early 1980's and released for sale in 1990.