Colocasia esculenta 'Pineapple Princess'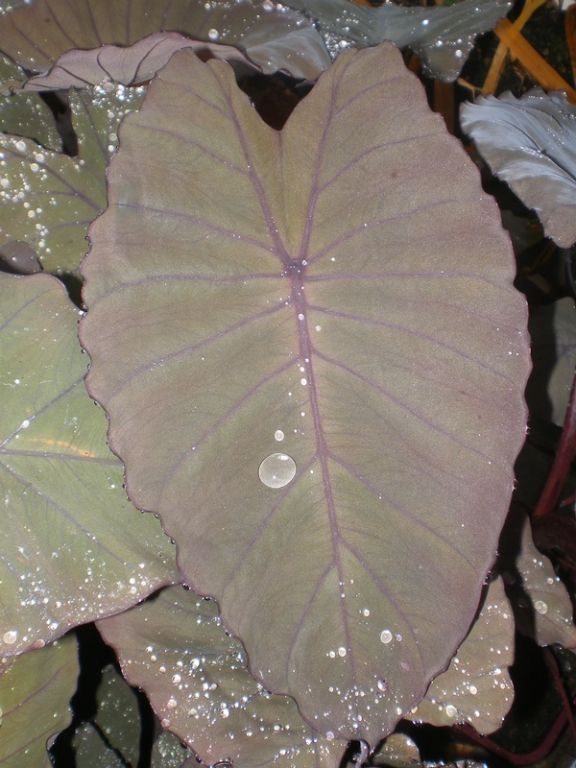 Description: A clump forming tender perennial which produces very large and long dusty grey-lavender leaves, with distinctive purple veins which look most striking. The back of each leaf is equally as dramatic, with the dark purple veins showing off against the grey-purple back. The leaves give an exotic feel to the garden and also produces spiky yellow flowers in late summer which smell of fruit as they begin to open
Uses: Edging a water garden as well as moist, sheltered area in the garden. Can be grown in large containers as can then be moved indoors in colder areas as roots will not tolerate heavy frosts.
Climate/Position: Sun or partial shade
Height/Spread: 1 metre x 1.5 metre spread
Soil Requirements: Moisture is key. the soil must maintain moisture as a very thirsty plant though it should have drainage too rather than stand in heavy wet soils.
Pruning: Cut back the foliage after first frost.
Special Requirements: Plants may be lifted and stored dry overwinter (like dahlias) The effect is well worth the effort.
Additional Interest: In its native environment Colocasia is grown as a food plant. The roots are used as Taro but need to be cooked as toxic in its raw state.
This recent introduction from Hawaii was made by John Chu in 2008