Clematis 'Early Sensation'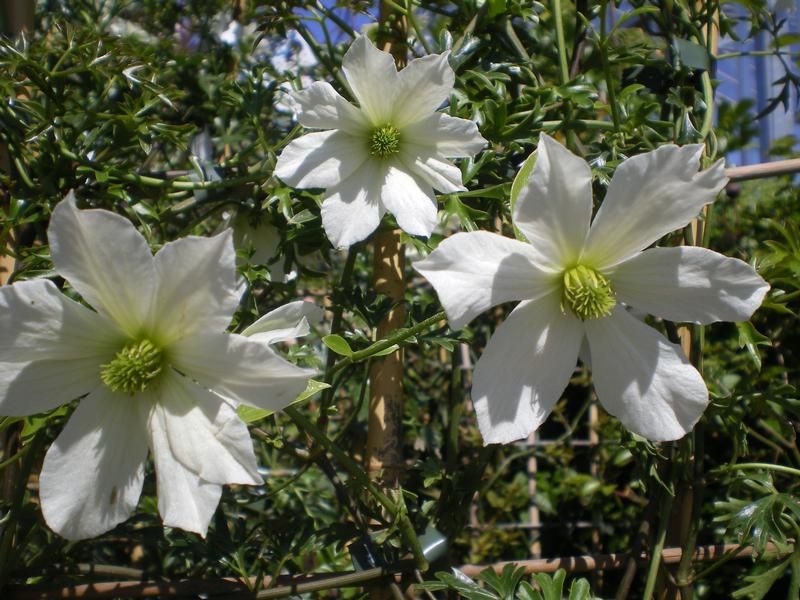 Description: A beautiful evergreen non clinging clematis with small bell shaped scented white flowers each with a lemony - green centre. The spring flowers in April and May are followed by a mass of fluffy seedheads which remain of great interest for the remainder of the year.
Suitable for growing in a container. Requires no pruning.
Climate/Position: Sunny position facing South or West, against a wall or fence which is sheltered from wind.
Height/Spread: Reaches up to 2 metres
Soil Requirements: Humus rich, fertile and well drained soil. The roots of clematis like to be kept cool.
Pruning: After establishment and training onto fence or wall, this mid sized evergreen variety requires no pruning. (Group 1)
Special Requirements: To keep roots cool you can plant amongst low growing shrubs. If planting in containers, ensure the pot is large enough to ensure roots are not restricted too much.
C. paniculata hybrid x C. paniculata Bred by Graham Hutchison and introduced in 1995.
The name Clematis comes from the greek word 'klema' meaning vine branch. Refers to the vine-like habit of many of the species.