Caryopteris x clandonensis 'Dark Knight'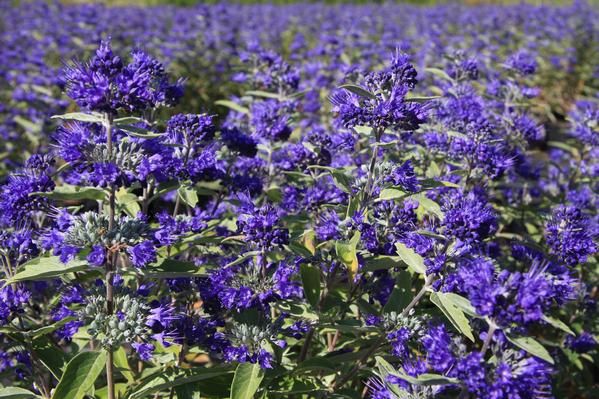 Description: A semi-woody compact but erect shrub with very deep purple-blue flowers held against light silver-green foliage. The flowers are produced in profusion late in the season and provide much needed nectar for butterflies. An essential plant for late summer colour, great in a border or containers.
Climate / Position: Requires a sunny position and shelter in cold areas. Drought tolerant
Height/Spread: will reach a height of 0.5m and a spread of 0.4m after 5-10 years
Soil Requirements: Thrives in any moist well-drained soil. Intolerant of wet, poorly-drained soils.
Pruning: Every spring cut back to within two leaf-buds of the old growth to promote new shoots. Weak stems should be cut base to the base
Special Requirements:
Avoid wet soils and provide some shelter in coldest locations.
Caryopteris x clandonensis was first discovered in the early 1930s by the then secretary of the RHS, Arthur Simmonds.