Calamagrostis x acutiflora 'Karl Foerster'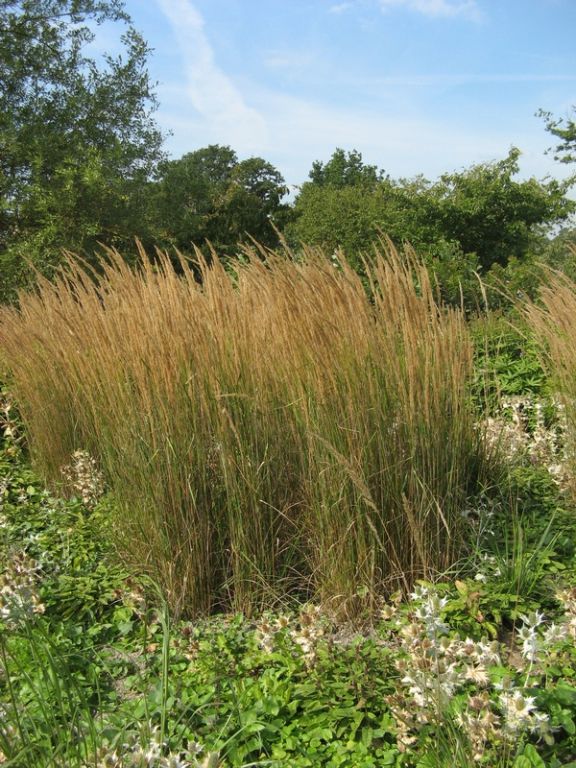 Description: One of the best upright growing grasses that forms a stiff clump which is fully hardy. This is one of the earliest perennial grasses with shoots appearing in early spring followed by tall flower heads that are pale green first, then gradually turn bright golden yellow. These move in the breeze and last into the winter months. Does not self seed.
Uses: Plant many to form a feathery screen, or in small groups to add height and winter interest to a perennial border. Good for urban planting against buildings.
Climate/Position: Full sun or partial shade in a sheltered position
Height/Spread: 1.2m tall flower spikes, 50cm clump
Soil Requirements: Tolerant of most soil conditions but moist well-drained soil gives best results and flower stems. Will tolerate even poor sandy or chalky and drought-prone soils.
Pruning: Cut back last years growth to ground level in February to encourage lush new foliage. Mulch every 2 - 3 years and be prepared to cut back invasive roots.
Special Requirements: Suitable for exposed coastal planting
Additional Interest: Reported to be a natural hybrid of Calamagrostis epigejos and Calamagrostis arundinacea found in Hamburg Botanical Garden. Named after the famous German plantsman Karl Foerster who introduced it in the 1950s in his book The Use of Grasses and Ferns in the Garden, under the name of Calamagrostis epigejos 'Hortorum'.