Astrantia 'Moulin Rouge'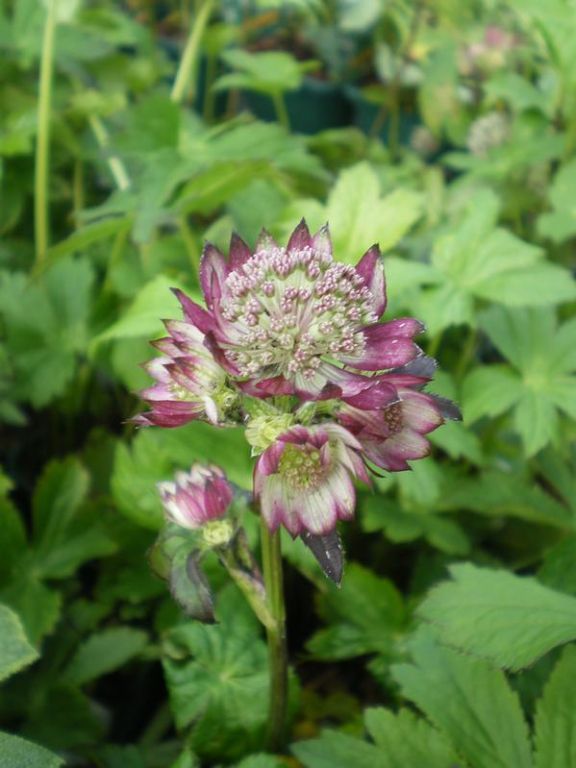 Description: One of the darkest Astrantia bearing umbels of dark red flowers with dark purple-red tips and nearly black bracts which are pincushion-like and papery in form. The flowers are borne in profusion and long lasting from June to August above large mid-green leaves and branching stems. This herbaceous clump forming perennial noted for long lasting flower heads is delicate looking yet hardy in nature. A delight when planted in dappled woodland shade or in contemporary planting.
Climate / Position: Full sun to partial shade. Does well in woodland and dappled shade.
Height / Spread: Height 45cm. Spread 30cm.
Soil Requirements: Moist fertile soils.
Pruning : None required. Can be cut back after flowering to encourage a second flush.
Special Requirements: Astrantias may take time to establish and do not like to to dry out. Ideally, incorporate organic matter when planting and water new plantings in dry weather.
Plant Breeders Rights apply.
'Moulin Rouge' was selecte in Marco Nursery in Netherlands in 2000. The new cultivar was derived as a naturally occurring chance seedling. The parentage is unknown, however the cultivars Astrantia major 'Claret' and A.m. 'Hadspen Blood' and unnamed selections of hybrid Astrantia were growing in the vicinity and are possible parents.