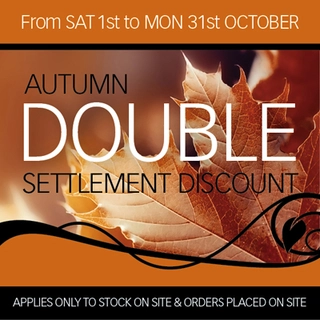 To make the most of the changing of the seasons, we are having an Autumn DOUBLE SETTLEMENT DISCOUNT running from 1st to 31st October inclusive.
With so much fantastic autumn colour on site and lots of new autumn stock in, this is a perfect opportunity to get some fantastic plants at fantastic prices.
From Saturday 1st October to Monday 31st October you will receive DOUBLE SETTLEMENT DISCOUNT on all orders placed on site in our cash and carry for items in stock.
Applies to ALL STOCK ON SITE
Does not apply to orders placed via online, phone or placed before Saturday 1st October
Does not apply to pre-ordered stock
Does not apply to orders placed via credit accounts