Sedum telephium (Atropurpureum Group) 'Purple Emperor'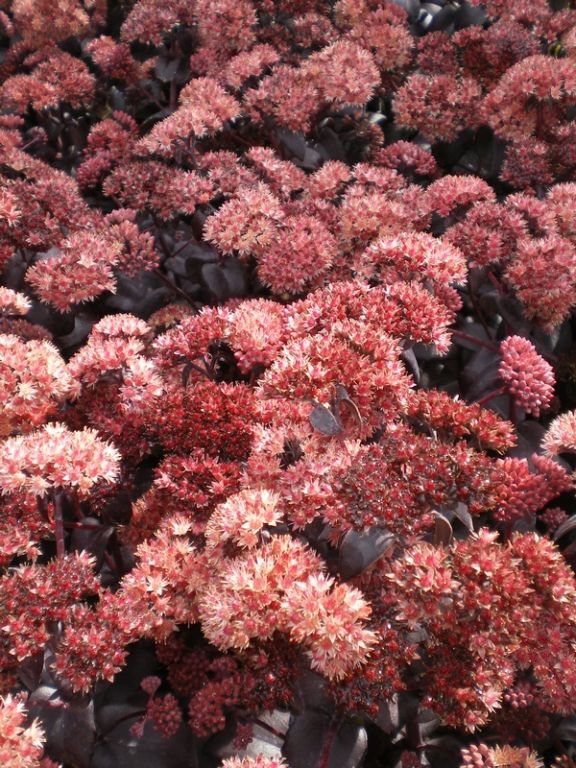 Description: This is one of those plants with excellent qualities which make it stand out from the wide range of Sedum available. The compact habit and rich purplish black fleshy leaves are held on strong upright stems of the same colour throughout much of the year. To top off the show, the large reddish panicles of flowers blend beautfully to give excellent long lasting show in late summer. As with other Sedum the flowers are loved by bees and butterflies and so great for wildlife in the garden.
Uses: Good in any sunny border giving a contast in colour and texture. Looks good with grasses and also good with late flowering perennials.
Climate/Position: Full sun for the best plants, drought resistant but also tolerant of wetter summers too.
Height/Spread: 50 cm x 50 cm.
Soil Requirements: Well drained soil. Apply a good mulch to encourage rich growth and better volume of flowers.
Pruning: Leave dead heads on until spring before removal then cut to ground level. Try the Chelsea chop! End of May (ie the week of Chelsea Flower Show) reduce the stems by half. this will encourage shorter more sturdy stems and more prolific flowers
Special Requirements: Best if clump divided and replanted after several years to refresh as the center of the plant will become depleted and stems long and more likely to collapse.
Additional Interest: