Rosa 'Roseraie de l'Hay'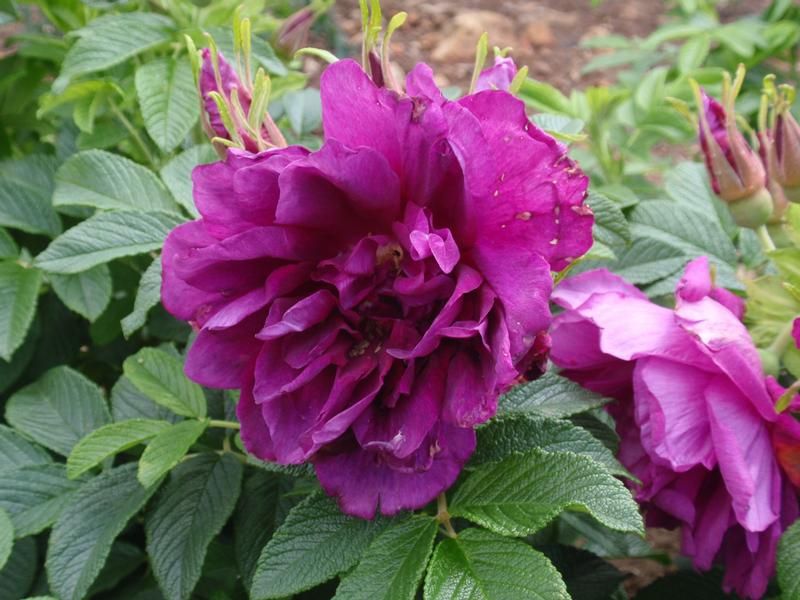 Description: A tough and vigorous rugosa rose often grown as a thorny but colourful hedge, or planted in a mixed border. Dense and bushy upright habit producing clusters of large, double, dark purplish-pink and beautifully scented flowers in summer. Dark glossy wrinkled leaves turn yellow in autumn for additional interest.
Uses: Mixed border or hedging.
Climate/Position: Sunny position.
Height/Spread: 1.2 if pruned as a hedge. 1.5 - 1.8 metres if left unpruned.
Soil Requirements: Though roses will tolerate most soil types, for best results roses prefer deep, rich, free draining soils with plenty of organic matter.
Avoid planting in sites that have previously been used for growing roses. Add organic matter before planting and mulch regularly for best results.
Pruning: Little pruning required. Old shoots may be cut close to ground level for rejuvenation. When grown as a hedge then trim roses to required height in February.
Special Requirements: Feeding roses in spring and applying annual mulch will enhance performance, encourage healthy growth and lead to improved flowering.
Additional Interest: An old and well proven rose introduced in France by Cochet in1901.