Rhododendron 'Surrey Heath'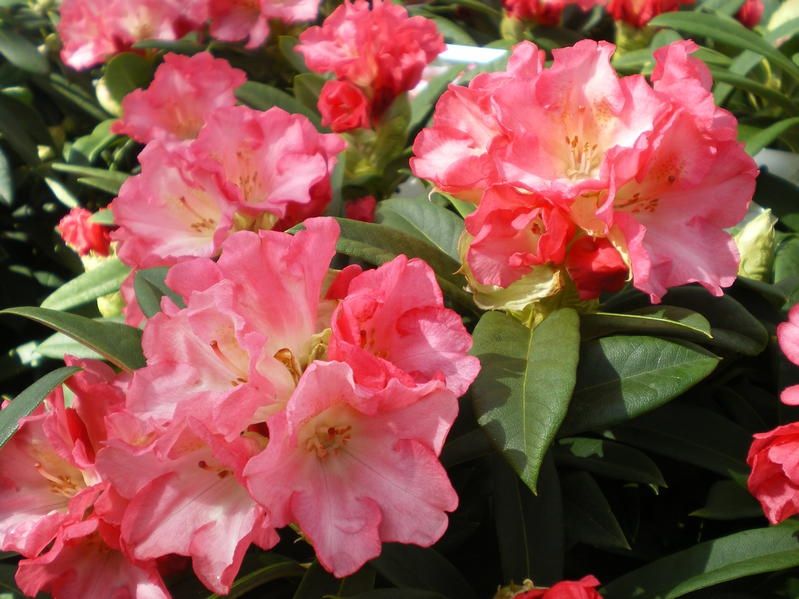 Description: A dense, compact, evergreen shrub with deep green leaves. It has large clusters of rose-pink flowers with orange spotting and creamy centre which fade giving two-tone effect. Flowers in May give a colourful show. Distinctive, long narrow-pointed leaves look good as background plant throughout year.
Uses: Ideal for container growing as well as in front of borders.
Climate/Position: Dappled shade prefered. Ideal for smaller garden or large containers in ericaeous soil.
Height/Spread: 1 metre x 1 metre.
Soil Requirements: Rhododendrons prefer soils with a low pH/ peaty soil or ericaceous compost to avoid chlorosis or yellowing of the leaves.
Pruning: Generally avoid pruning. Flower stalks can be pinched out (by finger and thumb rather than secateurs) when flowering is complete.
Special Requirements: Applying a mulch regularly around the plant will help moisture retention in the soil. Where plants struggle a little if not grown in soil with low pH, then Rhododendrons will always benefit from an annual feed of sequestered iron to ensure the plants do not suffer from iron deficiency which is indicated by interveinal chlorosis or yellowing of leaves between the veins.
Additional Interest: Parentage of 'Surrey Heath' is facetum x Fabia Group x yakushimanum x 'Britannia'. Introduced in 1975 by Waterers, Bagshot.