Rhododendron Inkarho 'Bloombux Pink'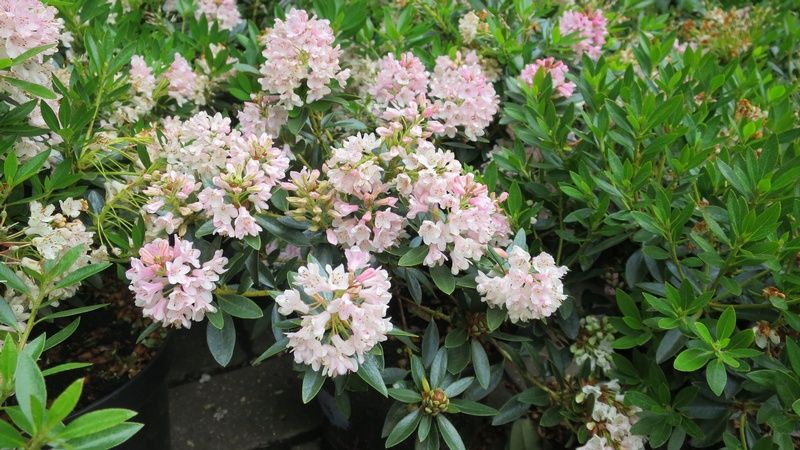 Description: A fabulous, recently introduced flowering alternative to box hedging! From INKARHO root stock (lime resistant) with evergreen foliage and clusters of scented, light rose-pink flowers in spring. Attractive to bees and butterflies. Does not require ericaceous compost.
Uses: Along the front of a border or in a pot/container. Suited to growing on soils where rhododendrons are not usually recommended.
Climate/Position: Prefers shade to semi-shade.
Height/Spread: 75cm x 75cm.
Soil Requirements: Moist, well-drained, humus-rich soil. Suitable for growing on most garden soils, from very acidic up to pH7.5.
Pruning: If required, this Rhododendron can be easily trimmed into shape after flowering.
Special Requirements: Applying a mulch regularly around the plant will help moisture retention in the soil. Where plants struggle a little when not grown in soil with low pH, then Rhododendrons will always benefit from an annual feed of sequestered iron to ensure the plants do not suffer from iron deficiency. This is indicated by interveinal chlorosis or yellowing of leaves between the veins.
Additional Interest: Plant Breeders Rights apply (PBR).
The Inkharo Rhododendron was introduced at the 2011 RHS Chelsea Flower Show as a revolutionary lime tolerant rootstock allowing the growing of Rhododendrons on neutral clay soils, up to pH7.5. Developed from a Rhododendron growing in a German lime quarry, and introduced after 20 years of breeding and testing.
A hybrid between 2 dwarf growing species, R. hirsutum x micranthum.