Pieris japonica 'Flaming Silver'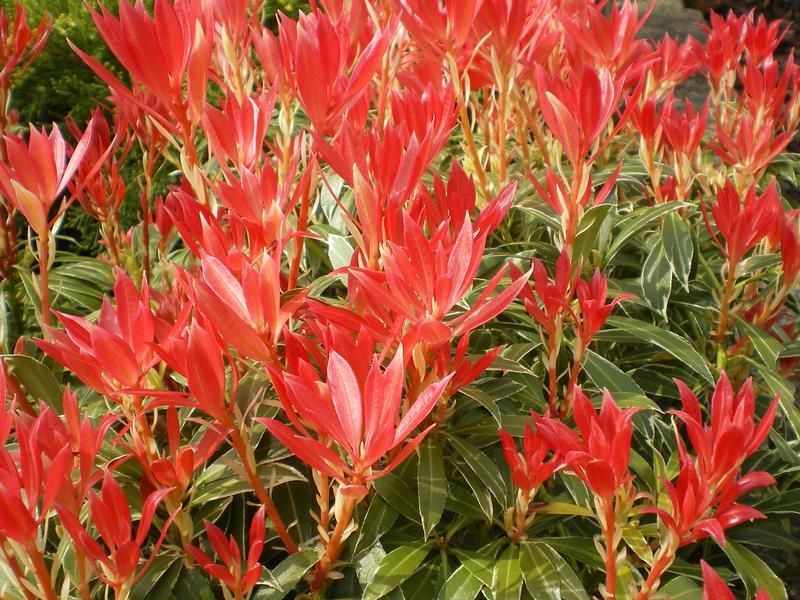 Description: A delightful slow growing shrub with evergreen, white edged leaves. The new growth in spring is a vibrant red in colour and held above nodding white flowers very similar to Lily of the Valley flowers.
Uses: The compact habit lends itself perfectly for mixed plantings, containers and woodland gardens. Pieris jap. 'Flaming Silver' looks great when planted with snowdrops, cyclamen, crocus and other spring flowering bulbs. Also good companion planting for Enkianthus campanulatus.
Climate / Position: Best in light/partial shade, sheltered from cold winds and early morning sun.
Height / Spread: Height 60cm. Spread 60cm.
Soil Requirements: Plant in humus rich, well drained, acidic / ericaceous soil. Mulch in winter with leaf mould.
Pruning: No pruning required.
Special Requirements: Pieris are shallow rooted and do not like being planted too deeply. Plant in a sheltered spot sheltered from cold winds and early morning sun as they flower better in dappled shade. Pieris are great for bringing spring interest to a woodland border.
Additional Interest: This is a genus of Ericaceous flowering plants from Asia and North America, classified in 1834 by David Don, 1799-1841. He named the genus after the Pierides or nine muses of mythology. The parent plant P. japonica was first collected and described by noted physician Carl Thunberg while working for the Dutch East India Company in Japan and was introduced in 1784 as Andromeda japonica and . It was introduced under P. japonica to the west in England by 1870 as the most cold hardy of all species. Pieres japonica are also native to eastern China and Taiwan.